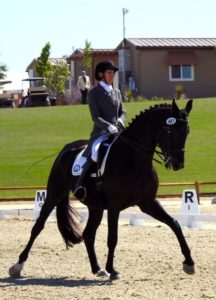 It is my great pleasure to share with you the success story of one of my longtime clients and friend – California trainer Barbi Breen-Gurley. I met Barbi in the mid-1980s through my wife, whose old university roommate was a good friend of Barbi's and introduced me to her. Before Barbi committed her heart and soul to Schleese, I worked with her a couple of times on the saddle she was using on her horse at the time, a Hanoverian named Celebrate. Over the years (when she finally saw the light lol!) she has probably ridden in around 10 different Schleese saddles – all the way from our JES line to several Heike Kemmers and Obrigados. I manage to see Barbi about 2 to 3 times every year when I'm working in California, and have most recently fitted her Grand Prix horse, a 17-year-old 17.2 hh Dutch warmblood named Vindicator (nickname: "Vin"). She originally got him from DG Bar Ranch, another of our previous clients (small world this is!).
Vindicator won training level HOY in 2007 and was 8th nationally in 2011 in the PSG at Lamplight. He was also 6th in 2013 and 5th in 2014 in Grand Prix at the US Dressage Finals in Kentucky. This September he was reserve champion in the Grand Prix Freestyle at the California Dressage Championships.
Most recently Barbi is ranked nationally in 5th place (USDF Vintage rankings) with Vin and is happy to share with me how wonderful the latest of Schleese acquisitions, one of our newest saddles – a ProLight on the BiNateLine – has been working for them both! I know she had been struggling a bit with his piaffe and tempis (and marked down for his collected walk, where he had a tendency to the lateral) – but, there was an immediate and visible improvement with her new ProLight saddle! His piaffes have more lift and energy, his walk immediately more correct, and his tempis are bouncing off the ground – bringing us all to tears!
Barbi has been working for years with our wonderful fitting team (Matt and Deb Hirons – Deb is herself an accomplished rider and Matt has been working with us for over 15 years to service our clientele in the months I'm not in California).
But Vin isn't the only star in this story – Barbi's other horses have also done exceptionally well this past year. Her horse Happy M (a KWPN, 7-year-old gelding) took 4th place in the third level championships, and Willit VF (a 4 year old Hanoverian gelding) placed 13th after only 3-1/2 months of owning him. She assures me that these successes are also due in no small part to the saddles she rides in.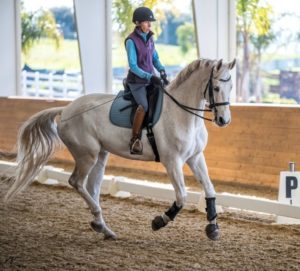 I love to hear these success stories from my friends and clients – especially the ones who have been long-time loyal Schleese supporters. This industry goes both ways I think – we continue to make the necessary innovations to our saddles to continue to provide success such as these to happy riders!