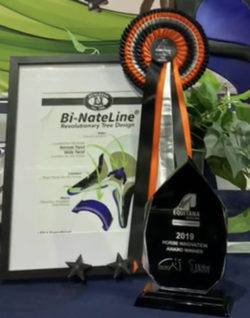 Equitana Auckland returned to New Zealand this past November 21-24 for the second time after the record breaking attendance in Melbourne in 2018. Schleese made the long trek halfway across the world to attend both of these shows and managed to come home with best booth award in 2018, and Innovative Product of the Year in New Zealand (along with 2nd place for best booth!)
Certified Master Saddler and Saddle Ergonomist Jochen Schleese was once again a featured educational presenter, and squeezed in his appearances at Equitana between a Saddlefit 4 Life Equine Ergonomist  course in Johannesburg and a subsequent course in Melbourne. His trip around the world will see him covering over 30,000 miles in less than three weeks!
The innovative product award was presented for Schleese's new Bi-NateLine™, which is revolutionizing saddle fit in every market. Part of the decision was based on a live presentation in front of a prestigious panel of three veterinarians who acted as judge and jury. The Bi-NateLine™ (BNL) saddles are made on our infinitely adjustable lightweight AdapTree®, which outperform any other tree on the market today – be it English or Western!  It is the ultimate wedding of Western and English worlds to keep the horse comfortable and moving optimally to perform at its best. 
 With this new Bi-NateLine™ Schleese secures its position as the leading 'horse-friendly' manufacturer in the world, by creating a saddle that not only combines form with function, but provides the lowest pounds per square inch pressure distribution on the horse's back with the PSI panel. Avoiding the sensitive reflex points on the horses back, Schleese has created a saddle line with the Bi-NateLine™ that will support a longer-lasting softer, closer, saddle fitting, which is unmatched in today's market and will become the new standard.
About Jochen Schleese and Schleese Saddlery Service Ltd.
Jochen Schleese got his certification as Master Saddler in Germany at the age of 22 and came to Canada in 1986 to establish and register the trade of saddlery in Ontario, Canada. With over 80 different models designed over the years, Schleese Saddlery Service Ltd is the world leading manufacturer of saddles designed for women, specializing in the unique anatomical requirements of female riders. Schleese authorized representatives provide diagnostic saddle fit analysis and saddle fitting services across the globe to maintain optimal saddle fit to horse and rider.
Jochen is the author of the best-selling "Suffering in Silence: The Saddle Fit Link to Physical and Psychological Trauma in Horses", now in its third printing by Trafalgar Square and available in hard copy, digital, and paperback versions at amazon.com. He and his company have been the recipients of numerous business and industry awards over the years and have been featured in the Wall Street Journal , twice on the Discovery Channel and soon on PBS. He has won a "Winnie" award for his DVD "Beyond the 9 points of saddle fit" as best educational video in 2017 and this year his book is up for an Equus Film Festival literary award.
He is a regular guest lecturer at various equine and veterinary colleges around the world.
For more information about Jochen Schleese and Schleese Saddlery Ltd. please go to www.saddlesforwomen.com or www.saddlefit4life.com