Over 200,000 Happy Customers!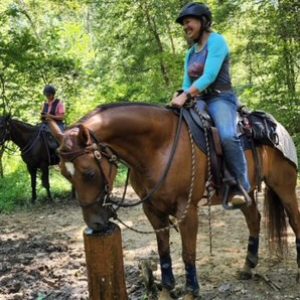 "I am a tri-Schleese saddle owner! … they are finally THE ONLY brand of saddle in my tack room."
I am a tri-Schleese saddle owner! As a matter of fact, they are finally THE ONLY brand of saddle in my tack room.
My 'little' mare I purchased 3 years ago had not been ridden correctly and has a very sway back. I tried 3-4 different saddles and various shimming patterns to try and fit each saddle. Nothing worked so I finally purchased her a Schleese Devin and an Obrigado since I love to ride trails, on cows, and dressage. We had a great season of trail riding and cow sorting until some other physical issues caught up with her.
I then purchased a four-year-old quarter horse to ride (I knew I'd be spending over a year 'rehabbing' Millie.). No worries, though! We attended a saddle fitting and the Devin became his custom-fit saddle!
A nice young lady with little horse experience came into our lives and began helping me rehab Millie. She wasn't comfortable in the dressage saddle as a very new rider, so I purchased the new Sheridan for her and Millie. My stirrups were too long for her on the Devin anyway so it worked out just fine!
I have a 29-year-old appendix gelding with quite a bit of muscle atrophy, but he likes to putter around a little bit. I'm able to set Millie's saddle in him for very short rides, too.
I have told multiple friends about the saddles and have aided in the sale of quite a few more in Ohio. I am a believer and try to save my horse friends who are just getting back into horses or who are looking for a saddle the trouble of buying and then having to sell that saddle due to poor saddle fit.
As a horse owner who has owned at least 10 different saddles over the years, my recommendation is to not waste your money and just get a Schleese (or two or three) so you can accommodate your horse as it changes through age or training and can accommodate any new horse you acquire.
On the western saddles, you can learn to change the shimming as you switch between horses, can get panels set to each horse and just change the panels, or buy more than one saddle! Schleese provides the confidence that your horse's back will stay healthy and happy. Please pick me! I'd love to get the shorter-length fenders for my Devin!
Thank you!
Jenny Lance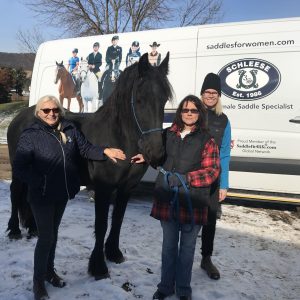 "… no more 'chair seat' and my gelding moved totally relaxed!!!"
We bought our first Friesian 3 years ago with no tack for her, I searched and asked until I saw one of Jochen's videos. I knew then when fit for the horse comes first we needed one. I set up my measuring as per the videos and found an Obrigado that fit the bill. We were so honoured to have Denise Lenz come to our house to fit it correctly to our mare, and I love it also even though I'm a male rider.
Two years ago I bought a Friesian gelding and there was no choice but to buy another Schleese, this time a western Devin saddle. We are so blessed to have an approved Schleese saddle fitter in our area of Wisconsin Tina Fox. Tina has made sure that my gelding is fit correctly and adjusted the saddle as he had changed.
We had the privilege of meeting Jochen Schleese at the Midwest horse fair this last April. I have a problem with [my] chair seat in my western but not dressage saddle. Jochen was able to give us directions on how to adjust the saddle by looking at pictures I had. Tina Fox came to our house, made the adjustments and no more 'chair seat' and my gelding moved totally relaxed!!!
To me, this is a home run. I am an avid Schleese promoter online or off, love the versatility and adjustability and no thick stupid saddle pads to make up for an ill-fitting saddle, I use my dressage pads for both saddles- who else can say that?
Thanks, Brett Fiala
Brett Fiala - Mondovi, WI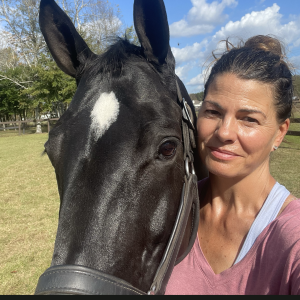 My name is Dana Hill. I purchased a custom-made Jete Plus Saddle from Schleese in 2021. The saddle was custom fit for my 11 yr Hanoverian mare who completed a couple of 2* events prior to my purchase. She had much evidence of damage from poor saddle fit. Originally when I purchased her, I was told by someone whose opinion I trusted, that the saddle I was using fit her. As her behaviour intensified over the next few months, I began to seriously doubt this advice.
As the pandemic has closed down any access I had to in-person consultation I began to do my own research and I became interested in what I was reading from Schleese. The website provided exceptional resources and the company also created insightful and educational webinars. Jochen was forthcoming about his own personal learning curve with saddle fitting and I found this to be very important for myself moving forward with a clear conscience. I appreciated his research references and found myself aligned with the weight he put on biomechanics and anatomy.
As the pandemic subsided, I reached out to the Ontario Schleese rep whom I had known from her equine bodywork career. The fact that Schleese reps have to take the ergonomist course to become a certified saddle fitter [CSE] was very comforting to me. I felt confident that I was working with someone knowledgeable.
The experience was nothing but positive. Although at the time the wait for the saddle was long (pandemic-related), it was worth it. It gave me an opportunity to further my horse's development on the ground. Once the saddle did arrive, we immediately had to make some changes due to the positive changes from the groundwork in my mare. This was not a problem. I have since had my saddle adjusted 8 times. My mare's entire body has changed and she is moving g beautifully and most importantly correctly and without tension.
I chose Schleese for the following reasons:
– Philosophy of saddle fit and research conducted to ensure proper construction.
– Construction of the saddle and features such as PSI panels, location of tree points, shoulder relief, gullet width, quality of leather etc.
– Ability to make changes to the saddle as the horse's body changes especially at the wither and the shoulder.
– Quality and education level of the saddle fitter employed by Schleese.
– Accessibility to quality fitters whether I am in Canada or the United States. The evaluation forms that each fitter completes provide all the information that the next fitter needs.
Dana Hill - Collingwood, ON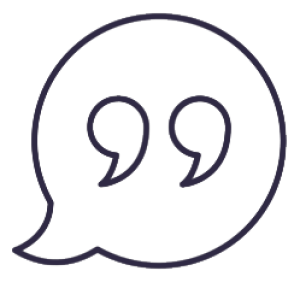 "I have been riding for 70 years and own purebred Arabians. I had been riding in a Prestige dressage saddle. I was at an Arabian dressage clinic and the clinician stopped me to do a saddle fit check. I had fitted the saddle mostly correctly but had not taken into account the short back of the Arabian horse. We utilized a wedge as a make-do solution. I sat better and my horse was very obviously happier. The clinician suggested various saddles that might be suitable, Schleese being one of them.
I began my search, knowing I needed to purchase used. In the meantime, I moved across the country, bringing my horses with me. I continued my saddle search.
Finally! I found a used 17.5" Schleese, medium wide, with pony panels at a local tack shop. I took it out on a trial. What a lovely difference a properly fitted saddle makes! I mounted and my horse did not brace! He calmly stood still while I mounted. I was no longer seated as if I was in a chair. Everything felt so right! We put the saddle through its paces. Absolutely perfect for both horse and rider! I quickly purchased it.
I have signed up for the do-it-yourself saddle fitting. It should validate my choice. I am thrilled with my, new to me, Schleese dressage saddle!!"
Regards, Tacy Cook
Tacy Cook - Columbia, South Carolina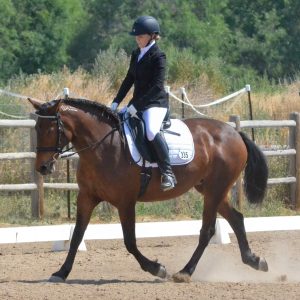 "I absolutely LOVE my Schleese "Let's Dance" dressage saddle!"
"I absolutely LOVE my Schleese "Let's Dance" dressage saddle! Last year my mare Auli'i and I were both really struggling in our old saddle (which was not a Schleese). I was really struggling to get my legs under me, and stay balanced and in rhythm with her movement. My mare was moving really nice on the ground but under saddle wasn't tracking up and would have trouble maintaining the canter. Starting from the time we tried the saddle on I saw and felt improvement in the both of us! It was incredible! She was more relaxed in all gaits, tracking up and maintaining a much more balanced canter. I immediately felt closer to her in the saddle, more balanced and my legs were under me! No more fighting with the saddle. The narrow twist allowed my hips to be more relaxed and freer. Over the past year of riding her in it she has not only continued to improve in her movement, but physically her withers have come up and her topline has improved. I had no idea that changing her saddle would help us both so much. Thank you Schleese team for making such a wonderful saddle ❤️"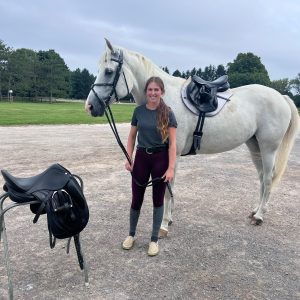 "Let's Dance & Eventer II… made a HUGE difference for me in my positioning."
Hi! My name is Amy Kryschuk and my horse's name is Lacey and we are from Ontario, Canada. I bought my schleese saddles a few years ago and I absolutely love them! I have both the Let's Dance dressage saddle as well as the Eventer II cross-country saddle. I can't say enough good things about these saddles, both in looks and comfort!
When I first tried them they made a HUGE difference for me in my positioning. I found that I could just sit still instead of fighting my saddle. They were so comfortable it felt as though I could ride in them for days. For me, I have always struggled with a bunch of different saddles giving me rubs and being in pain after riding. With these Schleese saddles, that has never been an issue and I am SO grateful for that! I think my horse can say the same for the comfort of these saddles. The second I started riding in the Let's Dance saddle I noticed a massive difference in her. Starting off with her movement she felt so lofty and had the desire to move forward. Her canter step was also much larger and I felt as though she had so much more freedom that allowed her to do so. I also always struggled with our stretch work at all gaits, (there was basically none) and the moment I allowed her to stretch was amazing, she took the bridle down and forward and was working over her back so well, I just knew the saddle made a world of a difference for both of us. As for the jump saddle, the same thing applies and in addition to all that, her jump felt like it had so much more scope to it than when I rode in previous saddles. The major thing I really love about both saddles is that they are adjustable in so many different ways.
I was so grateful especially this winter as Lacey had a bunch of time off from a surgery she received to remove a tumour on her right shoulder. She was off for a few months and lost a lot of her top line. I had the fitter out from Schleese to adjust both saddles to her new shape. The best thing was that a few months later I got them both fit again to adjust to her new muscle gain after starting back to work. Lacey is always changing in her muscles whether it's losing or gaining with more work or time off and I love knowing that no matter what, I can always be able to adapt the saddles to her shape while still having the saddles I love. Thank you for listening to our story with our Schleese saddles!
Amy Kryschuk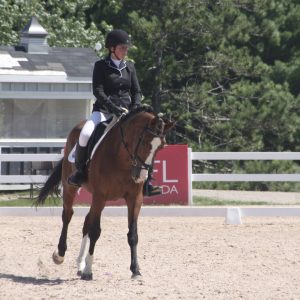 "My gelding is a senior and feel it is important to make sure his equipment fits well."
I am an avid Dressage rider and equine enthusiast! Well over eight years now I was looking to upgrade my Dressage saddle and had very optimistic feedback about Schleese's products. At the time I booked a fitting with Julia and went on to purchase a used Wave saddle. We boarded outside a city center and Julia was very accommodating coming for a fitting as well as only coming for one horse. I also purchased the dressage girth to go with my saddle which I still use today. The leather is durable and conditions well after each ride.
More recently I have been in contact with Leanne on scheduling a current fitting. My gelding is a senior and feel it is important to make sure his equipment fits well. My goal is to eventually upgrade to a new Schleese with permanent knee rolls for a more balanced seat.
Below are a couple of pictures of my gelding Caliente and myself a couple of weeks back showing First Level at the Caledon Equestrian Park.
#SchleeseStory
Thank you for the opportunity,
Amanda Peer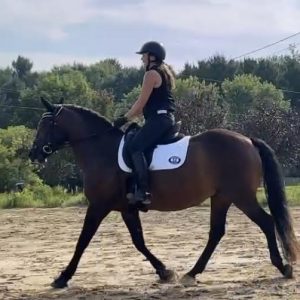 "Hello! My name's Rosalie Ouellet, I'm from Montreal, Quebec, Canada, and I have owned a Schleese Infinity II dressage saddle since September 2020. I am a relatively new amateur dressage rider, my mare and I have been jumping for the most part of our journey together.
I was looking for a saddle that was fully adjustable for my mare, who is a draft warmblood with good shoulders and a short back. She is really hard to fit. I was ready to invest good money since I had realized, through the years, that investing in the right saddle was the only way to go. I wanted her to feel comfortable, confident and free to move. I wanted to free her back and her shoulders from any unwanted weight. I secretly wished that with the proper saddle, she would finally appreciate dressage – I was realistically aware she wouldn't love dressage though, she is a free spirit 😅
So I bought this amazing saddle from an amateur rider who was selling it and I asked Schleese reps to assess it, to assess my horse and to assess myself. The measurements they did were a bliss to me. I was impressed as well as a bit disappointed because we discovered my saddle was too long for my mare's very short back…I asked my rep if it was possible to change the panels for shorter ones and it was! I was ecstatic. I had the PSI panels installed on my saddle and had the « new » saddle fitted to my mare. It was terrific! I love the fact that it's fully adjustable and that it fits her almost perfectly (nothing is perfect huh!). Schleese offers the best system I have come across over the last 11 years. My saddle is not only comfortable for her, it is for me as well. I feel balanced and at the right place, it's easier to work on having a better posture and on the right way to display aids. So we are now able to continue our training in dressage and are aiming for higher levels of comfort and fun!
Thank you Schleese 🙏 Oh and I have recommended Schleese to a lot of people around me, including a western barrel rider who had her horse measured with the Schleese 80 points, and another one who is a dressage rider who ended up buying a custom 2023 Lets dance saddle!"
Rosalie Ouellet - Montreal, QC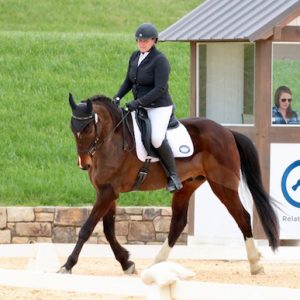 "We could not be happier with Schleese!"
"My name is Kathi Menner and I live and ride in Elmira, New York. I own two Schleese saddles [Wave and Eagle with PSI panels]. One old Weave dressage saddle and one really old Eagle eventing saddle. I have both saddles refitted with the psi panels.
I have owned the saddles for years and they have been fitted to 3 of my horses. Most recently, both saddles are fitted to my young horse Fritz. He is a 17-hand Dutch harness horse/ Standardbred. He has huge expressive gaits and can jump the moon.
What I LOVE most about the Schleese saddles, is that they grow with him. He looked very much like a Doctor Seuss character even a year ago. Long and awkward! The saddle he needed back then is not the saddle that he needs now. He has shown first-level dressage this year and is moving to second-level this coming spring. I absolutely love that the saddle was able to grow with him and adjust to his newly found muscles. Here are pictures of Fritz showing in Morven Park Virginia and schooling jumping at home. We could not be happier with Schleese!"
Kathi and Fritz
Kathi Menner - Elmira, NY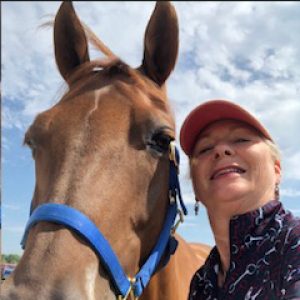 "Customized to me and my horse with endless abilities for modifications."
"I am new to western dressage and purchased my Schleese western dressage saddle Cadence in the Fall of 2021. I brought both my paint horses to be fit. Fortunately, the half-sisters were very close in their fit and I did not have to change the panels before riding the other horses. However, it is great that if they were different in their measurements I could purchase separate panels for the other horse and just modify between the two girls instead of having to buy an individual saddle for each horse. Due to one horse having a career-ending injury in 2022, I resumed showing this year with Talon. She had her re-fitting done in May and that made a difference in the balance of the saddle for me and the horse. We have done a few shows in Wisconsin and are qualified for the WDAA World Show 2023. The Schleese Cadence Western Saddle is well balanced, customized to me and my horse with endless abilities for modifications."
Julie Heyrman Compernolle - Richfield, WI