Over 200,000 Happy Customers!
"In any language I can think of, thank you for my new saddle"
Hey Jochen,
In any language I can think of, thank you for my new saddle. I rode Chablis in it today on the trail for about 2 hours and it was not only incredibly comfortable but my feet didn't fall asleep – something that has been a problem in pretty much every saddle I've ever been in (even sadly my hunt saddles sometimes) Just amazing – what I've been looking for, for well over 10 years! Do you remember my first Schleese I had for the big chestnut? It kept making my entire right leg fall asleep after only 5 minutes. You guys were amazing – I sent it back to your workshop a number of times- you shaved the internal bits, added a gel pad, did other crazy things to it – and finally it worked and was comfortable This was even better than all that crazy amazing custom work – day 1. Just awesome! And just as important, Chablis seems awfully happy in it too – big swinging walk (ok HUGE walk LOL)
I'm so glad you got to come to my little neck of the sagebrush – it's always fun to see you and you make my life and my ponies lives just that much better with what you do and how you do it.
Come back soon 🙂
Georges Schneider - Reno, NV
"My mare was happy! She was relaxed!"
Recently my husband purchased me the Obrigado saddle for my short backed thoroughbred mare. Who knew my long thoroughbreds actually had short backs? For nearly two years prior I had been riding her in a saddle which I didn't know fit horribly improperly for her. It was too long and too tight and it put me in a horrible seat. I knew it wasn't great but it wasn't until I met with a coach who pointed out just how bad it was. During that time, I had attributed my mare's behavior of "running out" from under me and hollowing her back to prance around as simple behavior and "full of piss and vinegar" for the first 10 minutes of every ride. I assumed it was just a habit from her racing days. Once it was pointed out to me that it was actually a pain response to her saddle I felt horrible and sick! Immediately getting rid of the saddle I spent the next few months riding her bareback at a walk (oh those withers!) Waiting for the saddle fitter to come and help us find an alternative. Riding bareback I found I sat right up front directly behind her whither and with my leg falling naturally right behind her leg. A quiet spot that made me feel the most at one with her and that gave me a proper seat. Natalie (the fitter) arrived in the early spring and we tried a number of saddles for my mare. Each time, she'd race around the arena semi in control with me constantly trying to find my way back to "my seat". Poor Natalie probably thought we were terribly suited to each other as we ripped circles and kicked up dust. One speed that was all we had. Finally we put the Obrigado on. I climbed into the saddle and (feeling slightly defeated…and embarrassed) off we went. I could tell something was different immediately at the walk. My mare was happy! She was relaxed! With her head down low and her back much higher she had found her saddle. I asked for a trot and we got one from a content horse. No more short steps and hollowed back. A canter was a canter! Not that semi controlled hand gallop with her trying to get out from under me or the saddle. I had a horse with more gears than simply 1st and 5th. And I love that it keeps me sitting right there up front where I like to be and without the double flap I can't help but forget there's a saddle there at all between me and my horse. Tricksy picked her saddle within moments of it being put on her back with undoubtedly a sigh of gratitude that I could easily feel and my coach could clearly see. Thank you! Thank you! Thank you is all there is to say to the folks who designed this saddle for horses like mine and riders like me.
Lindsey Horner - Peace River, AB
"I Got On and Yes, there Was A Miracle."
I have a 12 year old Pura Raza Espanol (PRE) horse who has proved to be a real challenge to fit saddle-wise. He is classically Baroque in shape with a short back, big shoulders, wide chest, and thick muscled mutton withers that have been the downfall of two saddles. After I noticed the deterioration of his back muscles I tried adjusting his current saddle to no avail. I had seen Jochen Schleeses videos online about saddle fit and how he developed the Obrigado saddle. I understood everything the Lusitano breeder mentioned in the video had been explaining to him. I was fairly certain that was the saddle for me so spoke to a number of women in my barn who ride in the Schleese saddles for feedback. After listening to the fourth woman rave excitedly about her Schleese saddle (my inquiries included an equine message therapist who owns a mare from the same breeder as my guy and rides in the Obrigado) I called for a fitting hoping for miracles. It was pretty close to that. Natalie put a 17.5″ Obrigado on my fellow, which was ½ inch smaller than my other saddles. She assured me I wouldn'tt feel the pressure on my pelvis that always caused me to go with the 18″seat. The funniest thing was my horse's expression. As we tightened the girth he turned and looked at me as if to say, "Hey what is this? It feels different."
I got on and yes, there was a miracle. Or as close to one as one could get having a horse go from stiff on the bit and hollow through the body, to yielding in all places, rounding into contact and actually executing a 10 metre volte softly with no resistance. The counter canter no longer felt like I was seated on a whirling blender, with my horse twisting wildly under me as we came around corners. The canter was up in front and I started exclaiming about my new horse! Perhaps the biggest reveal for me was when I dismounted. For the first time in 2 ½ years I got out of the saddle with no pain in my lower back or left hip. My legs weren'tt even stiff. The saddle literally corrected my posture each time I felt myself slipping. It helped me regain that three point seat they all rave about in the books and there was no constant dragging my legs back to get them into position. I could not believe the fit of a saddle could make such a difference not only for my horse but for me as a 5'3″ petite woman. I actually apologized to my horse for putting him through two bad fitting saddles. He is a very charitable fellow so I think he forgave me.
Kelly Buziak - Edmonton, Alberta
"The Biggest Gift is this…he can do Piaffe under the Obrigado"
Today is Mister's one year anniversary with his Schleese saddle. It has been a tremendous year with ups-and-downs. He has gone through such enormous changes that his body couldn'tt handle it.
But when we found out how to handle it or what the solution should be, he was able to do what we never expected.
He changed especially at his shoulders and in the curvature of his back.
Mister's body changed under the HK. But what he does under the Obrigado is beyond any expectation. All his life he has been a horse running away, off the hind leg, being so hotand sensitive it was often almost impossible to ride him.
Although he improved in his stature and in his rideability, these characteristics stayed. So we thought it was due to the long term damage he has, or maybe it is also part of his character. And then we started riding with the Obrigado.
But did you expect that he would change within 3 days (I'm not kidding!) into a horse that does not run away anymore at all, that uses the hind leg not only in forward motion, but he brakes on the hind leg now. Sometimes even too much, then it's almost a sliding stop. He is able to get on the hind leg and at the same time lower his neck. I can ride him now, instead of being that mosquito hitch-hiking on his back.
The biggest gift is this: he can do piaffe under the Obrigado. It is not steady yet, I do not expect that either. It has only been three weeks riding like this now. But what was never accomplished, although trying for years and years of training with well-known trainers, turned out not to be a very hard job at all. They were just in need of the right saddle.
So this is what happens with an older horse. Mister is 20 years old.
"Just wanted to say thank you"
Just wanted to say thank you…….Baloo just qualified for the royal – Pony Star Search……sporting a Schleese Eagle Saddle.
It takes a community to qualify a pony and the Schleese team is part of that community.
Again thank you.
Kim Dobson
Ennismore, ON
Kim Dobson - Ennismore, ON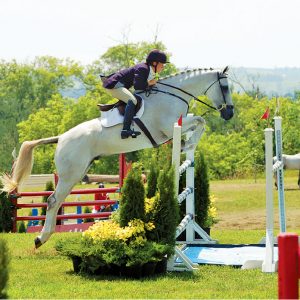 "I sank into the saddle yesterday…"
I sank into the saddle yesterday and immediately knew that there was no way I could return it. It would be like the roast beef dinner at my wedding that I was too nervous to eat – the small taste I had has never been equalled. A forever regret. No way I'm living with the feel of that saddle on my bum and not owning it! Chad equally approved with a marvelous extended trot down the long sides of the arena.
Kate Thomson, Toronto, ON
"The new saddle has made a HUGE difference."
Natalie:
I just wanted to let you know that MiMi had a chiropractic appointment with Andria Cogswell last night. The new saddle has made a HUGE difference- she had no soreness or trigger point at all anywhere in her back- wonderful! Andria even asked to see the saddle on her and deemed it perfect!
Traci Cox - St. Louis, Missouri
"I have no pain when I ride and I'm very comfortable with this new saddle."
I am sorry for not having given you any news with my new saddle last week. I took the time to try it to make sure everything was okay.
I am very pleased to say that everything is perfect now. I have no pain when I ride and I'm very comfortable with this new saddle. Other riders we noticed the difference when they see me ride. My position is much more upright and stable. I no longer need to dig my back to compensate to be right when I ride. I adjust my stirrup leather for good comfortable length for my legs. My legs are straight and stable too. Milady moves better now and I'll finally be able to start his training for our first show in early May. I will send you pictures.
I Thank you very much for your help and support. You never let me fall. Despite the time for my new saddle, you kept in touch with me and I greatly appreciate.
I would not hesitate in recommending the Schleese products to other riders. Thank you again for everything you and your team have done for me and Milady.
Josée Grenier - Boucherville, Quebec
"Thank you for sharing your knowledge and philosophy."
I write to extend my gratitude once again and express my pleasure in meeting Jochen Schleese and Christiane Noelting this last weekend (March 8) at the Schleese clinic at Los Lagos. I was thoroughly impressed by the personable yet professional manner in which they conducted the saddle evaluation and fitting process.
My beloved mare Greta and I have endured quite a journey from injury to recovery and have struggled to progress in training. I had suspected but am now thoroughly convinced that my current saddle is a major obstacle to that progression. Riding in the Obrigado was nothing short of liberating.
I now humbly acknowledge that I have been riding in a poorly suited saddle but I am also redeemed that we were able to demonstrate that we are capable of so much more in our riding (during the test ride).
It is quite evident that Jochen has a solid understanding of equine and human anatomy and biomechanics and that this serves as the foundation upon which this tremendous line of saddles is based. It was such a transformation between the two rides.
Christiane gave great care and attention to Greta and me in schooling us during the test ride and did so freely. I anticipate that this is not part of the standard process and so I wanted to ensure that you all knew how appreciative I was that she took the time to share her expertise.
Thank you for sharing your knowledge and philosophy.
Shannon R. Murphy, PhD - Elverta, California
"Please convey my thanks to your excellent staff"
I want to commend you for dedicating your life to the welfare of the noblest conquest of man the horse. You never cease to amaze me!
In October I attended another one of your saddle fitting sessions. You graciously accommodated us and I rode in an Obrigado. It was quite clear from the beginning that my horse was moving out quite well and my friend was amazed. I am a VERY HAPPY customer! Jochen was so attentive to every detail and I am thrilled to finally have the perfect fit. My horse moves out so much more free that I have to learn to adjust to this new stride!  There is SUCH a need to alleviate the suffering of so many horses who endure disciplinary actions for daring to try to communicate that they hurt, – adding insult to injury.
Please convey my thanks to your excellent staff. Their customer service is exemplary and you are fortunate to have these ladies. I was a customer service manager for 18 years for a company which believed customer service to be the most important thing thus, I can recognize their excellence!
Marie-France E. Nolet - Loma Rica, CA
"Many thanks to Julia Dixon and the wonderful people at Schleese!"
Many thanks to Julia Dixon and the wonderful people at Schleese! I have just received my new saddle and it is amazing. Julia was so patient and understanding when she came out to fit us, patiently explaining why Chiefs current saddle was interfering with his movement and why it was constantly thrusting me backwards. She didn't hurry me and let me re-try saddles again and again until I was sure what felt right.
When my new saddle was ready, she again made sure everything was just right for Chief and me, offering advice on how the fit might change as Chief puts on more muscle and tips on how to deal with this.
I can without hesitation recommend Schleese to anyone who is searching for a saddle that is right for them and for their horse. Schleese saddle fitters are knowledgeable and professional, and provide excellent service with a positive and helpful attitude. And knowing that my horse is supported and comfortable while working is a great feeling!
Christine Cardwell, Windham Centre, ON
Secretary, Irish Wolfhound Club of Canada

Christine Cardwell - Windham Centre, ON Secretary - Irish Wolfhound Club of Canada
"I LOVE our saddle that Natalie fit for us"
Hi there just wanted to pass this little clip on http://vimeo.com/84405970 and to tell you how much my horse and I LOVE our saddle that Natalie fit for us. It was really hard to find a saddle that fit my Andalusian until we found yours!! Thank you!!
Sheila Wickford-Scollard - Calgary, AB