Over 200,000 Happy Customers!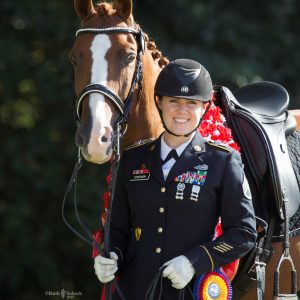 "Congrats to Schleese Saddlery Service for 30 years of wonderful service to horses and their riders."
SSG Katie Ferencik joined the U.S. Army in the summer of 2001, and has served two tours overseas in Iraq and Afghanistan. She is currently assigned as an Individual Mobilization Augmentee (IMA) with Alaskan Command. Katie is attempting to become the first Soldier to compete internationally since the 1952 Olympics. Her partner, Horatio, is a 2004 Trakehner, and together they plan to debut in the Spring of 2018 at Prix St. George. Check out what Katie had to say about her Obrigado.
"Congrats to Schleese Saddlery Service for 30 years (Jeeze, that's almost as old as I am!!) of wonderful service to horses and their riders.
I'm proud to ride in Schleese, and can't wait to get my new Obrigado! You are constantly taking Horatio and I to the next level, and I'm so thankful that you're in my life. How weird is this?!? I'm pretty much expressing my love for a saddle maker/fitter(s?) in public.
Jochen, thinking of you – hope you are doing well – remember when I stopped you in the barn at Coto de Caza a couple of years ago, going on about how much of a fan I was of you? Probably not – but that's just because I stopped short of asking you to sign my saddle, I'm sure 🙂
Connie and Mark Frantzke what can I say? You've believed in me from the moment we met, and your visits are highlights! You are wonderful people with an amazing way of looking at life. Thank you for your friendship – it means the world to me!
My fellow dressage enthusiast, Frank, said it best in regards to the Obrigado, "I thought there was no way any other saddle could be more comfortable than my first Schleese, but then, incredibly, it was!" <—–my exact experience!
Do you know what Obrigado means? (Not you, Schleese peeps, the public) It means Thank you, in Portuguese! Well, OBRIGADO, SCHLEESE! OBRIGADO!
Congrats again – I'm taking this Saddlefit 4 Life and turning it into a Customer4Life."
Check out Katie's thank you video!
https://youtu.be/1G0mNoqhWT8
Katie Ferencik - Tucson, AZ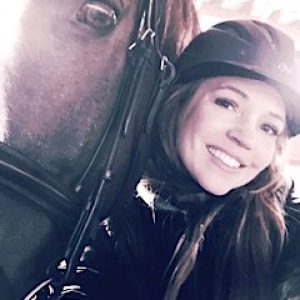 "I'm so happy with Siege's progress and changes in condition."
"I am so happy with Siege's progress and changes in condition. The two best decisions ever were #1 buying a Schleese saddle and #2 training with Chad [Basile]. I have never been happier. You and Chad have literally saved my relationship with my horse. I was SO CLOSE to selling him but now we are a team. Learning and getting in shape together. I can't thank you enough!!!! Not only does Siege love his new saddle, my low back pain is GONE. I never feel uncomfortable.
Again. Thank you."
Allison Jacobson - Pittsford, NY
"Rex's movement was so different than anything I have ever felt before!"
I am a new Schleese customer and wanted to tell you how much I love my new saddle!  I have struggled for almost 5 years trying to find the right saddle for my horse.  New ones would work for a short time, but were never the right fit for myself and my horse together.  After watching all your videos, reading your book and the information on your website, I decided that I wanted to do the right thing for my horse and purchase one of your saddles.
Working with Denise Lenz was so educational and fun!  She was just super and explained everything she was doing.  I had several people there to watch me ride in 3 different saddles, but my horse Rex chose the Obrigado.  His movement was so different than anything I have ever felt before!  He has a very short back so it really suited him, and everyone watching agreed it was the one.  He was so happy and forward moving in that saddle, and I really just sat there and let him go.  Sitting the trot and canter was effortless for me for the first time!  Now I see why a "female" saddle makes such a difference.  I could never sit his canter easily before or keep my toes forward in my previous saddles.  The seat is so comfortable and I feel really supported as I ride.  It's like I am one with him, and not just sitting on his back.  Every ride is a good ride and I'm excited to keep progressing with his training now that he can really move his body and not be uncomfortable or restricted.
I am also very grateful to Denise for selling me that demo saddle so I didn't have to wait for one to be made.  She said she could leave us knowing it fit perfectly, and that gave her peace of mind.  I slept really well that night knowing I had purchased not only a lovely piece of equipment, but also feeling relieved that my horse will never suffer pain from an ill-fitting saddle ever again.  I am a Schleese customer for life now and look forward to working with Denise for years to come.
"Obrigado" [Thank you] and kind regards.
Christine Stevens - Winnipeg, Manitoba
"Another great round of fitting sessions with your hard working staff!"
I just wanted to let you know that it has been another great round of fitting sessions with your hard working staff. Linda did a marvelous job arranging the schedule so that my friend and I could meet with Alexa and Juila on a weekend because of our work schedule. Alexa and Julia then did a great job helping Mary and I with our saddles and we are both beyond happy with how our horses are doing. I had some concerns following my fitting so Alexa and Julia swung by my barn on their way to another client one more time a few days later to recheck and ease my pre-horse show nerves. Alexa then sent me an article to help explain what I was seeing. All of this was a tribute to your company's service to us as riders and our horses. I also want to mention Natalie Sauner (we do miss her!) has been a star in helping with fitting my horse and I and even answers some questions for me this time around via text message. Thank you for having such a stellar group of people and standing behind your saddles.  🙂 
Becky Sturdy - Downers Grove, IL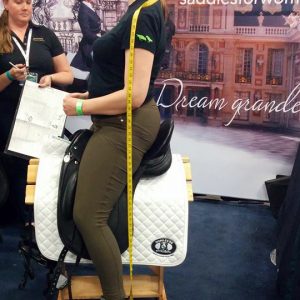 "Thank you for coming to Alberta to give your talks!"
Hi.
My name is Jennifer Pitzel and I am an Equine Massage Therapist. We spoke at The Mane Event in Red Deer about your saddles. I thought you might be interested in seeing the photos I took. Keep in mind that I am amateur rider who took 3 years off of riding.
Recently I bought a new horse, a 5 year old. I find I struggle to find my balance with my legs either too forward or too far back. The first photo is of me in your saddle designed for the male pelvis. The second photo is your female designed saddle [see side photo of female saddle].
Thank you for coming to Alberta to give your talks! I feel I really got a better understanding of what you have written and spoken of in your book and DVD which I am familiar with.
Jen Pitzel - Edmonton, Alberta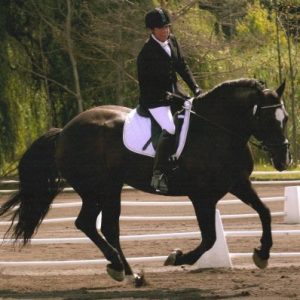 "I am thrilled with the saddles and the fitters!"
I am thrilled with the saddles and the fitters ! My 17 yr old draft cross has the cleanest spine they had ever seen when he had a bone scan done too see where arthritis was . His spine was clean . He only has been ridden in a Schleese .
Julia Dixon has just been amazing ! She has done wonders to get me a loaner and get my saddle built quickly so I can have it for a scholarship I was awarded.
Thanks again, Emily!
[Update: May 31, 2016]
Just wanted to tell you how much this new saddle has changed my horse.  My super short Obrigado [saddle] saved Pete.  No back pain.  The saddle fits Pete and me perfectly. He's happy and no longer reactive and spooky as his back is pain free!!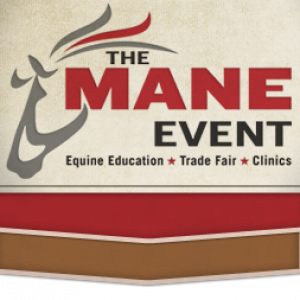 "To hear him [Jochen Schleese] speak with passion…"
We had a busy day two at the Mane Event in Red Deer, Alberta.  Here we were listening to Jochen Schleese on Saddle Fit for Women for both English and Western Riders.  We were honored to meet Jochen. To hear him speak with passion about preserving horse and humans through proper saddle fit was truly amazing.
Krista Lund and Kenda Lubeck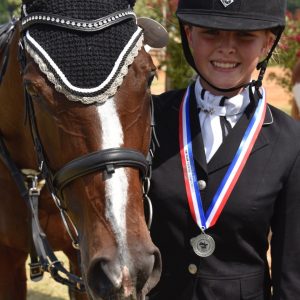 "We had no idea what a world of difference it would make!"
Dear Schleese,
When we tried your Eagle XC saddle last year, we had no idea what a world of difference it would make!  Instantly, my mare and I were more comfortable, gaits were smoother and overall, transitions flowed much nicer.  I learned so much in the presentation and will never look at saddles the same again.  I've since had the tree adjusted after spending several months putting some weight on my sweet mare, Fast Forward Again, and she is again doing very well under saddle.  Every time we have met with or emailed the group from Schleese, they have been absolutely WONDERFUL!
Thank you, Schleese, for making a top quality saddle that is both beautiful and adjustable to fit my horse.  Congratulations on 30 years!
Maggie Maddison - Little Rock, AR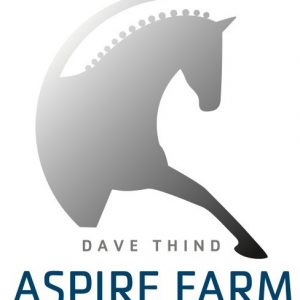 "I am extremely excited to be working with the high-tech saddle company Schleese"
"I am extremely excited to be working with the high-tech saddle company Schleese.  Their innovative and ergonomic saddle design and saddle fit analyses not only fosters optimal performance, it helps protect against pain and long-term damage to both horse and rider."
"Biomechanics and injury prevention are fundamental building blocks of my methods; as a result I have done extensive research into saddle companies, their design technologies and core concepts.  The mere fact that Schleese saddles are offered in male or female pelvis versions caught my attention. I was immediately drawn to the scientific and innovative design of Schleese saddles."
"Under Schleese saddles, my horses feel comfortable and readily offer to use their whole bodies right from the beginning of each training session. The Schleese design does not touch any triggers and the wide channel gives clearance to the ligaments running along the horse's back all while ensuring a steady and biomechanically superior bearing surface. This all helps my horses raise their toplines and really use their neck, withers and with their engaged and stable core, offer me their raised and swinging back. Without this, it is impossible to engage the hind-legs or obtain shoulder freedom."
"Schleese saddles allow me to sit forward over the horse's center of gravity without sacrificing the option of a deep seat.  It supports correct position without locking me into one position.  I am able to fine-tune my position to influence my horses with greater freedom and more precise results.  In the Schleese saddle I can both affect and follow my horses to a high degree."
"Within the first week I witnessed dramatic results in topline improvement and my horses' general way of going.   Students are experiencing a positive boost in their improvement which is creating great momentum for the winter months. I look forward to what is in store for our future with Schleese."
David Thind - Walpole, MA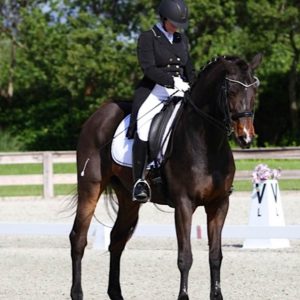 "Congratulations to Dr. Heather Boo and Liberty Light!"
"Schleese Saddlery would like to offer a big congratulations to Dr. Heather Boo and Liberty Light, who completed their Grand Prix USDF gold medal scores!
Dr. Heather Boo and Liberty Light ride in the Obrigado saddle, as well as a Schleese girth and double bridle!
Congratulations on your achievement!"
(Photo by Sara Hellner Photo)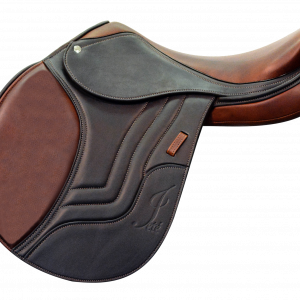 "I am so pleased with my Schleese Jeté saddle!"
"I am so pleased with my Jeté saddle, custom made  for me by Schleese Saddlery Service.  Every horse that I have ridden in it has felt much looser in their back and shoulders- the shoulder relief technology does make a big difference.
My students have been riding in it and every one has had a significant improvement with their form and balance. Several riders preferred to finish out the show season using my Jeté saddle instead of their own".
Margie
Margie Gayford - Canadian Grand Prix Rider - Stouffville, ON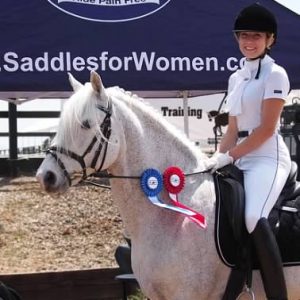 "My Pony was Immediately more Comfortable!"
Dear Mr. Schleese and The Schleese Team,
I just wanted to thank you for the quality of the saddles you make and the care you take when fitting them to the horse/pony that is ridden in them. This last weekend, Jochen Schleese re-fitted my Schleese saddle, my pony was immediately much more comfortable, happy, and willing to go forward.
I ride Carolyn Adams's pony Laffran Sponti in a Schleese saddle, and this year we were 3rd level JR/YR champions at the California Dressage Society JR/YR Championships. In the photo attached, we visited the Schleese booth at the Woodside Dressage Show in July, where we placed 1st (with a score of 67.718) and 2nd (with a score of 68.718) in classes against horses and professional riders. I am so lucky to have an amazing pony to ride and a saddle that keeps him so happy and healthy! 🙂
Sincerely,
Eva Larsen