Over 200,000 Happy Customers!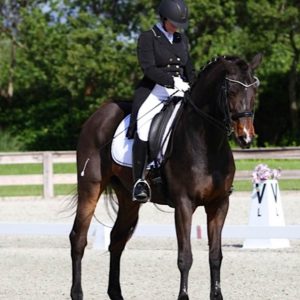 "Congratulations to Dr. Heather Boo and Liberty Light!"
"Schleese Saddlery would like to offer a big congratulations to Dr. Heather Boo and Liberty Light, who completed their Grand Prix USDF gold medal scores!
Dr. Heather Boo and Liberty Light ride in the Obrigado saddle, as well as a Schleese girth and double bridle!
Congratulations on your achievement!"
(Photo by Sara Hellner Photo)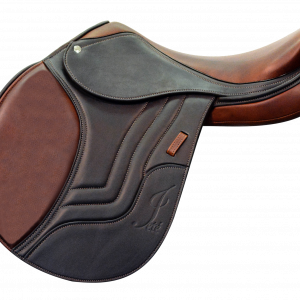 "I am so pleased with my Schleese Jeté saddle!"
"I am so pleased with my Jeté saddle, custom made  for me by Schleese Saddlery Service.  Every horse that I have ridden in it has felt much looser in their back and shoulders- the shoulder relief technology does make a big difference.
My students have been riding in it and every one has had a significant improvement with their form and balance. Several riders preferred to finish out the show season using my Jeté saddle instead of their own".
Margie
Margie Gayford - Canadian Grand Prix Rider - Stouffville, ON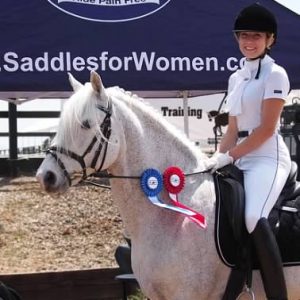 "My Pony was Immediately more Comfortable!"
Dear Mr. Schleese and The Schleese Team,
I just wanted to thank you for the quality of the saddles you make and the care you take when fitting them to the horse/pony that is ridden in them. This last weekend, Jochen Schleese re-fitted my Schleese saddle, my pony was immediately much more comfortable, happy, and willing to go forward.
I ride Carolyn Adams's pony Laffran Sponti in a Schleese saddle, and this year we were 3rd level JR/YR champions at the California Dressage Society JR/YR Championships. In the photo attached, we visited the Schleese booth at the Woodside Dressage Show in July, where we placed 1st (with a score of 67.718) and 2nd (with a score of 68.718) in classes against horses and professional riders. I am so lucky to have an amazing pony to ride and a saddle that keeps him so happy and healthy! 🙂
Sincerely,
Eva Larsen
"We can't thank you enough for literally saving our horse Indy!"
All good.  Murielle we can't thank you enough for literally saving our horse Indy.  We had no idea how miserably sore he was until you caught it over the summer and then we saw it at the fitting.  And the bonus was the tremendous difference Schleese also made in the second horse, which was totally unexpected.  Fabio's back now comes up over the jumps like it never did before…even surprising Lisette on her ride at Twin Rivers Horse Trials.  FYI, Monique broke the 30s in dressage for the first time taking a 24.5 at Twin Rivers thanks to the freedom and comfort he now feels in his back.  All are amazed, and truly appreciative.  Thanks for finding it in the work we did with you this summer, and for educating us about the difference in Schleese.
Please let Jochen how much we appreciate his technology, his professionalism, and his impact on the comfort of both of our horses!  Listening to him and seeing the IMMEDIATE difference in Indy was fantastic.  We are now huge Schleese fans, and telling all about our experience.
🙂 Best regards, Kristina Boudreaux
Kristina Boudreaux - Sebastopol, CA
"It is hard to believe a saddle can make such a difference to both horse and rider, for good or bad!"
Hello Julia,
Just wanted to thank you for coming to Millbrook.  It is hard to believe a saddle can make such a difference to both horse and rider, for good or bad!  Both horses are going in a more relaxed state, raising their backs easily and getting their legs under them.  Both are picking up canters on either rein.  I rode the small one for 2.5 hours through the Ganny on Sunday, up and down hills and the saddle remained in position and he was a happy boy.  I had no hip or ankle pain at all.  After getting home I walked the dog and then rode the Canadien.  In the summer I would not have been able to even think of doing that as my hip would have been so sore.  I feel 40 years younger and would not hesitate to event again if I had the horse and a proper Schleese saddle.  I might even be looking forward to doing Dressage with Duc, or at least reining with Laddie!
Thanks again and hope you and Charlie had a good trip home!
Ann Lanz - Millbrook, Ontario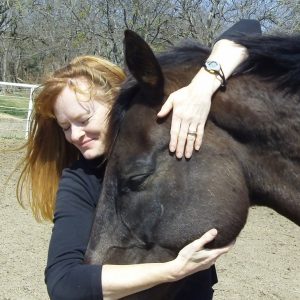 "My name is Jennifer Fulton and my focus is the Whole Horse."
I had a wall full of ribbons from countless horse shows and I still wasn't happy. I wasn't happy because my horses obviously were not. I spent thousands of hours riding with very talented trainers, but no matter how well I could ride, there was still a void. I wanted to be better. I wanted to be more than a rider. I wanted to be a horseman, that is, horsewoman.
So, in my never-ending quest for self improvement, I embarked on a journey that would change not only my life, but the lives of the horses for whom I have such a deep passion.
I began to study everything I could get my hands on about horse behavior. This led me down another path to a degree in equine nutrition. But wait, there's more! I soaked up information about hoof care and the latest breakthroughs in equine pharmacology, anatomy, physiology, and holistic healing like a sponge. I moved away from any training techniques involving pain, fear, and intimidation. I solicited the advice of trainers well-versed in the Classical Method of Dressage- no easy task in the Cutting Horse Capital of the World! I aligned myself with only those persons with a similar philosophy.
Along the way, I met an amazing number of horses who, for various reasons, were placed in a recliner and destined for a life spent staring at a fish tank in someone's nursing home of a back pasture, or worse, the kill pen. These horses had failed at their current careers due to physical and /or behavioral issues.
Over and over I was encountering riders whose trainers and vets had given up on the horses. Somehow, it didn't seem right. If these horses were okay for some life in a pasture or to be passed off to some other unsuspecting rider, why couldn't they be made whole again? Plenty of humans retire from one career to begin another, so why couldn't a low level eventer become someone's next First Level dressage partner? I figured they simply needed someone with the knowledge to help them succeed and that person was going to be me.
But, I am human and flawed, so even I could fail a horse. Enter GG, an exceptionally challenging mare. Try as I might, I just couldn't figure out how to make her happy. She was terrific to be around- as long as I stayed off her back. So, without further adieux, I delved into the world of saddle fit. I was pretty sure I had it all figured out and was making some pretty good progress with the mare, but I wasn't quite there. My saddle wasn't horrible, but it still wasn't quite right- and it certainly wasn't doing me any favors.
So, in a last ditch effort to find a way to ride this mare successfully, I began my search for yet another saddle- one that would suit both of us. A chance outing one evening landed me in Saddle Heaven. I had stumbled upon what would become a savior for even more of the horses entrusted to my care: Schleese Saddles.
Not only are these saddles made for women (Hooray!) but they are also fully adjustable for the horse. A certified fitter from the company -in Schleese terms, an Ergonomist- comes to my farm at least every six months to fit the horses both statically and dynamically. The Saddle Fit for Life philosophy aligned perfectly with my own.  So, thanks to a chance meeting with Jochen Schleese and his wife, Sabine, the final piece of my puzzle fell into place and now I can be even more successful giving horses the futures they deserve- far from the kill pens and forgotten back pastures.
Utilizing nutrition, holistic healing, environment, proper saddle fit, and the Classical Method of Dressage, I have been able to successfully heal horses with not only physical trauma, but psychological trauma, as well.
My name is Jennifer Fulton and my focus is the Whole Horse.
Jennifer Fulton - Aledo, TX
"Thank you for an AMAZING saddle fitting today!"
Thank you Schleese for an AMAZING saddle fitting today by Matt Hirons.  He did a fantastic job doing a much needed adjustment for my young, ever changing mare!  Made all the difference in the world on fit for her and position for me!
Thank you so much for having Matt on your team!  His dedication to his trade is PRICELESS!!!
Regards!
Maren Thompson - San Diego, CA
"Thank you so much for all you have done for women and for horses."
Thank you so much for all you have done for women and for horses.
I grew up on a cattle ranch, riding bareback, and western from a young age. When I became interested in dressage some years ago, I tried a saddle that someone I knew had for sale. After riding in it, my crotch was extremely sore and numb… I mentioned this to my friend, (an equine vet) whom I respected. She told me that if I wanted to ride dressage I would have to get used to it, and basically that if you are not raw and unable to walk after riding, you are not riding 'hard enough.' Wow.
Thank goodness I did not buy the saddle. I was unable to find anything acceptable to me for my price, so for many years I rode in a 'Sensation' Treeless Dressage saddle. It felt like bareback, and at least I was not injuring my horses and myself. But it was difficult to find and maintain a correct position.
About a year ago I first rode in a Schleese when my friend allowed me to ride her horse, and her new saddle she had just purchased. I instantly felt relaxed and supported everywhere. My legs were able to hang so nicely from the hip joints. Comfort, and absolute security! I was shocked that it felt MORE comfortable than my treeless saddle which is extremely close contact and nice to sit in.
Also, I must mention that this horse, who I had ridden in the past and found him to be unpleasant, was NOT THE SAME HORSE! He was happy and able to go in a light contact in an engaged way. He no longer rushed, braced, inverted, and chewed the bit. These things were gone.
So I of course bought my own Schleese not long afterward. I am very impressed with the saddle's excellent quality and perfect fit to my body. I am lucky it works for me, since I bought it used. I am very delighted with it. I recently had it reflocked by one of your staff and the customer service was perfect. I learned a lot and I am very happy with the results. Can't say enough good things about your company!
Thank you for helping so many horses and women who ride in your saddles!
Dana Nordin, Saskatchewan
"It has truly been magical!!"
Hi Natalie:
I wanted to let you know I've been riding in my new Obrigado for a week & it has truly been magical!! Thank you for an informative & fantastic fitting session. I really appreciate your time spent answering all my questions. The horses have a new 'turbo boost' behind the saddle & you can see the engagement of the hind legs in these pics. Thanks again!!
JoAnne Bonnell - Wright City, MO
"He has not placed out of the top 5 in any competitions since we started working with Schleese"
For the longest, time I always had trouble with my dressage, especially on my 14 year old Lusitano, Voyeur. Being an eventer, I thought he might just prefer the jumping, but then I began to come to the conclusion that he was in pain. My riding continued to improve, but I still had trouble with all my downward transitions and it got to the point where I could not sit the trot without him hollowing his back. I did some research and found Schleese and then attended one of Jochens saddle fitting sessions for the first time in Santa Rosa. When I rode in one of his saddles that truly fit me and Voyeur for the first time, I almost melted! Suddenly I could do things like sit the trot without discomfort or difficulty. My transitions improved dramatically. I also noticed a change in his demeanor whenever we did dressage. An even more exciting change was when we received our lowest dressage score yet in competition: a 29.0 which is equivalent to a 71% in dressage. He has not placed out of the top 5 in any competitions since we started working with Schleese. I also have a 6 year old Hanovarian and 11 year old Selle Francias. My 6 year old, Charlie, had two wins out of the past three shows we have done and my 11 year old, Q, was able to move up a level this past season. I have had more success than ever this year thanks to Schleese Saddlery!
Thanks!
Alexandra Tett - Healdsburg, CA
"Damon has improved a lot since using the Obrigado saddle"
Hello Jochen,
Just wanted to let you know that Damon has improved a lot since using the Obrigado saddle and it hasn't even been two weeks. The bumps along his spine on the left side are almost gone and he is cantering much more comfortably. But the biggest change that I notice is in the muscles just behind the saddle, they are actually loose and moving with each step, which has not been the case in other saddles. I am very encouraged by these changes in such a short time and wanted to say thank you.
At the January Wellington Show, we won both of his classes with his high score being 80.8% – we received our highest marks ever at the canter, 8.5.
We are looking forward to the rest of the show season and hope to see you further down the trail!
Thanks again, we will keep you posted.
Nancy Smith - Wellington, FL
"I love it twice as much as I did yesterday"
Day 2 in my new Infinity II and I love it twice as much as I did yesterday. My horse just seems more powerful, lifting her back and using her shoulders more. She is reaching for the bit more and is steadier in the contact, more willing to move laterally. I love the sitting phase of rising trot; I come into this soft, balanced place and feel I can adjust my position more readily. The bridle is an added perk. It fits her better and gives her more relief at her ears and brow.
Thank you so much for taking half a day to give me and my horse this wonderful gift!