Over 200,000 Happy Customers!
"30th Anniversary Saddle Giveaway Winner – Leslie Anderson and Ziggy"
I am writing to thank CDS (California Dressage Society) and Schleese Saddlery for the CDS 50th Anniversary Saddle Spectacular Raffle. I was thrilled to be the winner of the Schleese saddle which was fitted and delivered to me February 17 [2017].  Jochen spent several hours educating me on the importance of proper saddle fit.  He began by watching me ride in my old saddle then taking the saddle off, he used colored chalk on my horse to explain how a saddle is fit according to the horse's anatomy. Then he sat me on a saw horse to check my position and how my leg hung naturally. I was measured for saddle size then I rode in a demo saddle which required only a minor adjustment. The change in my horse's gait was amazing with more shoulder freedom and more 'step under himself' with ease.  My position changed into a more upright position and my leg hung naturally without any effort from me in placement.  I loved the demo saddle and took it with me the same day. The experience with Jochen and his team was very educational and a complete pleasure. I look forward to our next saddle fitting session and I continue to be thrilled with my new Obrigado saddle!
Best regards,
Leslie Anderson - Walnut Creek, CA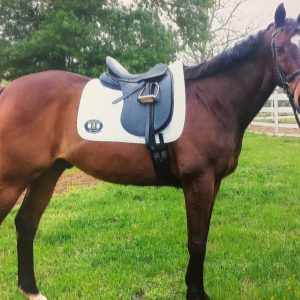 "The difference the saddle has made for him is amazing. His lateral work, shoulders and back end are so free now."
30 Years of Schleese Saddle Giveaway Winner…
"On behalf of the Thoroughbred Retirement Network of Louisiana, I'd like to extend our warmest thanks for such a fabulous saddle. We are beyond thrilled to have received the new Wave dressage saddle to use on our off-tracks. 'Stormin' Eddie is heading off to Pensacola, Florida this weekend for another recognized dressage show. The difference the saddle has made for him is amazing. His lateral work, shoulders + back end are so free now. We've also included a picture of a few of his awards last year from the Jockey Club's Thoroughbred Incentive Program.
Again- we are so grateful to have been selected to receive such an incredible training and riding tool. It will be with us for a very long time."
Cindy D'Atrio, Director of the Thoroughbred Retirement Newtwork of Louisiana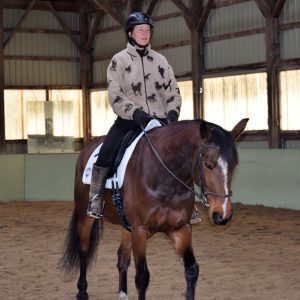 "30th Anniversary Saddle Giveaway – Winner Winnie Stott and Spring Song of Ontario"
First of all it was amazing to be a recipient of a saddle. I can still hardly believe it!
Although I've only had the saddle for a short time I have noticed some things:
It's comfortable, it puts me in an excellent position and it doesn't weigh a ton. I'm able to easily lift it onto my six-year-old mare who is over 16.1hh.
My mare, Spring Song, moves beautifully in the saddle and loves it. No histrionics while saddling her. Just a sweet look and a mare ready to go for a ride.
My riding coach pointed out the saddle's gullet. It's wide and comfortable for Spring Song.
A friend who knows his way around saddles helped me fine-tune the adjustment on Spring Song. This was easy to do because of the webbing adjustment on both sides at the back of the saddle.
He pointed out that the tree is adjustable, too. Yippee!
Although Spring Song doesn't have a long back (or a short one) it's a relief that my new saddle isn't too long. Length is most certainly a deal breaker (or maker!).
In the past thirty years we've experienced with each of our horses the arduous search for the right saddle at various stages of each horse's training and life. This translated to five saddles in 20 years for one Thoroughbred and three saddles in nine years for each of our two Lusitanos. With the adjustable capabilities of the Schleese saddle I'm looking forward to a lifetime of comfort for Spring Song. No saddle hunting for her!
Winnie Stott
Winnie Stott - King City, Ontario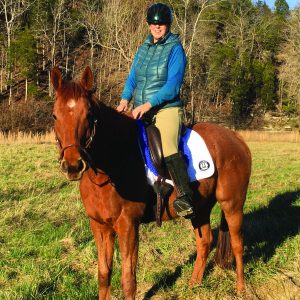 "Colby's Army selected as a winner in Schleese's 30th Anniversary Saddle Giveaway!"
"I couldn't believe it," said Colby's Army lead instructor Kim Coleman Light. "For almost a year I'd been trying to get my rider to sit up with her legs underneath her and as soon as she sat in the Schleese saddle, mission accomplished. All of sudden I have a rider who is advancing much faster. What a difference a Schleese saddle can make!"
Kim Coleman
Kim Coleman and Lisa Wysocky - Nashville, TN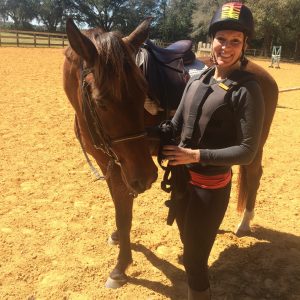 "Our rescued horses have made such a drastic improvement since riding in your saddles!"
Dear Jochan Schleese and Staff,
I am very grateful for what you have done and can't begin to thank you enough for all your patience, wise council, good humor and support.  Your team has always been reliable, approachable, efficient and knowledgeable. I have found your entire group to be professional and proficient in all aspects of your work.  You are supportive and empowering, allowing me to excel in the things I love most.   I really appreciate all of your encouragement and guidance every step of the way. As always, I am impressed with every encounter and personal service your company has offered.  I will forever be grateful for the way you have personally dealt with me, my horses, and all of my concerns.  You have provided us with such great appeal, dedication, creativity, exceptional skills and an amazing ability to connect with your clients!  The service and personal attention is extraordinary! Your timing and quality have always met my expectations and your communication is always done in a professional manner.  You have proven to be creative in problem resolution and overall consistent in meeting our expectations.  The work was above and beyond what I could have expected.  I was pleasantly surprised and impressed with the level of detail that comes with your experience.  Many thanks for all you do, your help, advice, and for looking after us.  Without this we would be at a complete loss.  I am so very thankful for being chosen to win your 30-year anniversary saddle.  Our rescued horses have made such a drastic improvement since riding in your saddles! I look forward to many more years working with you.
Sincerely,
Melissa Verga Harris
Melissa Verga Harris - Hudson, FL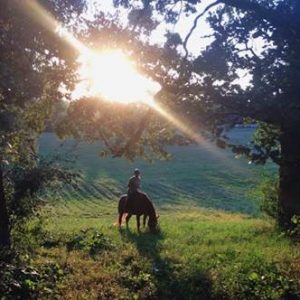 "I have been riding in Schleese saddles for at least 20 years!"
I have been riding in Schleese saddles for at least 20 years.
When I bought my first horse I rode in a second hand JES and when I got a "real job" and a new horse I purchased a slightly used Wave. Having a Schleese was just the right thing to do for me and my horse, and the frequent fittings were part of the scheme of developing a horse and doing right by them.
I searched and tried many different brands, semi-custom, custom, shoulder freedom, wider gullets etc., etc.  If it looked good for the horse, it felt horrible to me, if it was comfortable for me, it couldn't fit the horse.  Eventually I tried out an Obrigado saddle and REALLY liked it.
In cold, horrible weather, at the end of a long day at Lamplight, Julia Dixon-Curtis and Alexa Frye cheerfully let me try saddle after saddle, discussed the best options in less expensive models and talked about ways to modify my current saddle.  It really went on and on, and those two positive, helpful, encouraging women just supplied me with information, said nice things about my horse (it helps!), let me 'hem and haw' and ask 10, 000 questions.  I felt like an important client with a crucial but difficult decision to make.  At NO time did I feel pressured, or demonized for saying that considering the $ to my family vs what was best for my horse might be a legitimate consideration.  I now have a custom wonderful Obrigado that fits me and my horse wonderfully. It was VERY much worth the price and a saddle that I do believe I can grow old with.  It is beautifully made, with details that suited me and my horse.
Those two are wonderful representatives of your company, they are easy to work with, very knowledgeable and a perfect combination as a team.  Your company has very strongly shaped my whole adult horse riding life.  I am a very educated consumer thanks to all  my years of watching saddle fitting and riding in your [Schleese] saddles.
Paula Smeltekop - Mount Prospect, IL
"If anyone deserves a Schleese saddle it's the horse. And I mean every horse!"
If anyone deserves a Schleese saddle it's the horse. And I mean every horse. The dressage champion as much as the trail king and everything in between. I learned that last year and I will tell you how.
My friends daughter has a very sensitive Thoroughbred that she events with. George is handsome, a great jumper and… and absolute horror to tack up. He was twisting under every saddle like an eel. Gnashing his horrible teeth and- you get the picture. I recommended to look for a new saddle and that Schleese might help.
The fitting was a nightmare! George was fussing and fighting. Turns out that he has a very short back. So short in fact, that none of the demo saddles even worked. My friend decided to order a new Schleese. It was like a miracle!
After using it for a short time, George started to relax while tacking up. No more snapping and eye rolling. The muscle spasms in his back stopped, and he started to enjoy petting and scratches. He is not perfect, and probably never will be after years of ill fitting saddles, but he is better.
Why would I deserve a Schleese? My horse Radar would love it. I have a dressage Schleese that my guy loves. Now I think, he would really deserve a jumping one, to continue being a happy horse. George was our example of how this saddle works and why we believe in the brand.
Thanks
Kathi Menner - Elmira, NY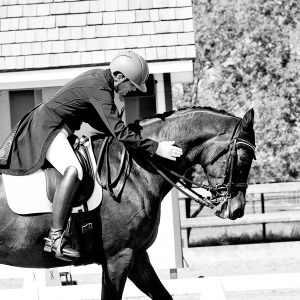 "Our custom Obrigado has changed everything for both of us!"
I have had Coco my Dutch Warmblood for 6 years and found it very difficult to fit a saddle for his very large shoulder, long wither and extremely short back. After years of searching buy and trying, with no luck, I finally made an appointment with Natalie Sauner from Schleese in our Alberta area. Coco and I are elated to finally have found the saddle for us! Our custom Obrigado has changed everything for both of us! I am now a balanced rider and Coco is a happy [and] who is willing to do his work everyday.
Thanks Natalie for your professional knowledgeable services, you truly are an amazing saddle specialist.
Debbie Gibeau - Eckville, AB
"I am truly feeling lucky and my horse is equally so."
I wanted to thank you again for going above and beyond at my saddle fitting appointment. That was a truly kind and generous thing for you to do and I can't thank you enough. I am truly feeling lucky and my horse is equally so.
I am sure your dedication and commitment to the highest standards will make a lasting impression.
I remain forever grateful to you.
Nancy Totten - Walnut Creek, CA
"Thank you for the recent article you wrote on saddle fit and hyper-flexion in the English Rider newspaper."
I just wanted to thank you for the recent article you wrote on saddle fit and hyper-flexion. In fact, I want to thank you for ALL the publications and electronic clips you have created.  Your dedication to improving the welfare of horses through education is inspiring and a principle we try to live by here.
We work hard every day to make sure our horses are healthy and happy and that their needs as horses are always met, before ever considering what we need from them.
I am always eager to devour your articles and webinars because of the emphasis on the horse as a living being whose physical structures have specific functions, and how to tailor our own desires/wants to work WITH these structures instead of against them.
When I first learned principles of saddle fitting, I learned only about the line of the panel following the horse's back to ensure there was full contact and no bridging, about 2-3 fingers of space between top of wither and bottom of pommel, and the classic idea (at the time) that the pommel and cantle should sit level if the saddle was in balance on the horse's back.  Thinking back on that makes me sad that I may have made horses uncomfortable because of what I didn't know…
Through my own education endeavors, and with a strong assist from your seminars, I now understand about the saddle support area, not having a saddle riding the scapula (or causing it to jam against it with every step), not having a saddle too far back, and the importance of aligning the seat of the saddle with the optimal carrying spot at the base of the horse's withers.  I understand that a saddle can 'fit' but the horse may not like the feel of it, and to look first at fit and comfort when a horse starts developing 'attitude'. I've learned that a saddle can 'fit' in the barn but you have to confirm the fit with a person in the tack- because weight in the saddle changes things.
Given we are all animal lovers, we want what's best for the horses, even if that means they need a different job in order to be happy.  We are proud that our herd looks healthy and happy and that not one horse is ring sour.
Reading your recent article, I was struck with a need to express my gratitude for the horse person you have helped me to become.  I wanted you to know about the profound impact your words and philosophy has had, not just on me, but the horses, clients and trainers I have worked with, numbering collectively in the hundreds.
Thank you again, I look forward to future articles.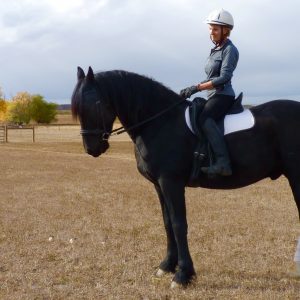 "Thank you for the extensive time and effort you have taken to develop saddles…"
Ten years ago I purchased a lovely three yr. old Friesian cross to train for dressage, not realizing the size he would attain for my small frame.  He quickly outgrew my extra wide saddle and my other hoop tree saddle was so very painful for my hips that I actually was diagnosed with torn labral cartilage and subsequent further OA degeneration of both hip joints.  I then began to ride in my other trail saddle with panels that "sort of" fit the broad back/mutton withers but completely destroyed attempts at a effective dressage position and continued to be very painful for me.
Having spent a summer with a driving instructor and realizing that was not for me, my only choice seemed to be selling my now beautifully trained and well loved horse and finding a "skinny little one" I could perhaps ride after the recommended bilateral hip replacement surgeries.
By now you can probably see where this note is going; yes, I signed up for a Schleese evaluation last summer, rode in a loaner until my custom was made and now, after several weeks in my new Schleese, even the severe and chronic tendinitis has mostly healed and finally at age 74, I'm working with a Centered Riding instructor, attending clinics and riding better than I ever have on Mr. Propane Tank.
So, thank you for the extensive time and effort you have taken to develop saddles that enable us little older women to continue to enjoy what we have devoted so many years to attaining even with our imperfect joints, and in my case, to avoid drastic surgeries.
Linda Greenman - Fort Collins, CO
"I could never have done it without the Obrigado saddle."
I rode that second level test last weekend (my bucket list).  No it was not the best test ever, but I did it and did not make a mistake one.  I could never have done it without the [Obrigado] saddle.  Made such a difference for both my horse and myself.  And gave me the confidence to try, which I would never have done.  I figure not too bad for an old lady such as I.
Thanks again,
Jan Nichols - Terrell, TX