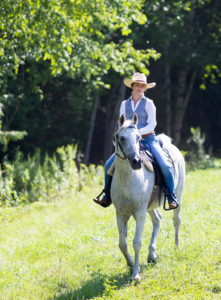 At Schleese Saddlery we recognize the unique physiology of female riders focusing on our mission as the female saddle specialist.
As stated by our founder, Jochen Schleese, "In a world that has historically had a 'one size fits all' mentality, our hand constructed well appointed, superior quality western saddle is the only brand that ensures maximum comfort and performance custom made for female riders – achieving the perfect partnership between horse and rider for the ultimate riding experience".
We accomplish this through unparalleled craftsmanship, world-class experience, and superior fitting practices.  Our infinitely adjustable saddles are designed for the female physiology, creating truly life-changing comfort and responsiveness.
Sheridan – All Around
The Sheridan has been created to fill a high demand for a traditional and economically priced all-around western saddle. To keep things simple, we have opted for a standard hind cinch and standard western rigging with a traditional ranch style appearance.  The Sheridan features our industry leading adjustability for the horse and rider, it is lightweight and comfortable and allows the rider the option to adjust one's own saddle anywhere anytime, on your own or with the support of one of our fully certified CSE's.
The Sheridan Western saddle has a number of benefits:
| | | |
| --- | --- | --- |
| Advantages of our Sheridan Saddle | Features for Optimum fit for your Horse | Benefits for the Rider |
| Custom fit for a woman's anatomy | Adjustable panel fitting elements to fit every horse and can be refit to the horse as it changes and develops | Adjustable seat balance to accommodate different body types |
| Infinitely adjustable for both horse and rider | Western AdapTree® that flexes with the lateral movement of the horse | Interchangeable and adjustable Western/English rigging system |
| Maximum comfort | A wide channel for spinal clearance to promote back health | Adjustable stirrup bars to accommodate different body types |
| Injury prevention | Large weight bearing bars for added support allowing freedom of movement | Your choice of sheepskin, leather, and wool felt panel fitting elements |

Book a saddle fitting at one of our upcoming clinics.
Contact us today to order a saddle or visit us at one
of the shows, we are attending.