The Bonita Pony Jumping saddle is the perfect saddle for young riders or petite adults who would like an adjustable jumping saddle not only designed for optimal performance but for optimal shoulder freedom and back health for their pony.
Designed with a Lightweight FlexTree
Female seat
Fully adjustable gullet plate
Shoulder relief pony panels
A wide channel provides sufficient spinal clearance
Made of Premium European soft leather
Wool flocked panels
---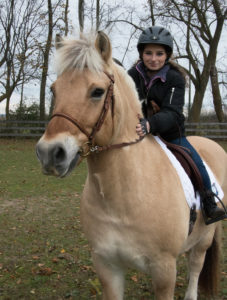 Bonita – Testimonial
I recently had the chance to try a saddle that finally fits me! I rode in the 16″ Schleese Bonita dressage saddle. I only stand at 4″3 tall and the first issue is my leg length in comparison to flap length and being able to have a physical contact and connection with a horse! The second issue I usually face is the fact saddles are way too wide and stretch me to the point of doing the splits while riding and tearing my muscles in the groin from stress and too wide a twist. Although I may be the height of a child,  I am nonetheless a fully grown 25-year-old woman, with developed hips and pelvis just like an average height woman. The Bonita may be considered a pony saddle and more a saddle for younger children, but really any petite rider would be amazed at the comfort and connection it can bring to horse and rider, it's astounding! I recommend any petite ladies or gentleman to give it a try and disregard the fact that it's a "youth and pony" saddle. It's just another saddle model made to perfection by Schleese to cater to petite statured people of all ages!
Korina Rothery