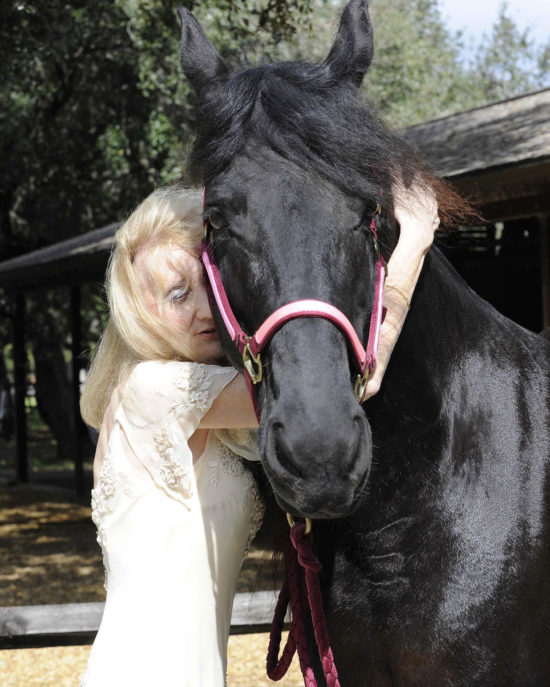 We drove down to Florida about a week ago and had snowstorms pretty much to the bottom of Tennessee. Then we decided to continue on through Atlanta and spend the night after about 17 hours of driving – with everyone warning us of the blizzard that was expected the next morning.
Thankfully, we managed to miss it and arrived late in the afternoon on Friday January 6th. That weekend was probably the worst weather we could have asked for – massive down pours and thunderstorms on Saturday and – for Florida – extreme cold on Sunday (about 10 degrees C). But on that Sunday we visited our first client – a lovely lady named Claudia Strong (you'll see why this is a fitting name as her story reflects the strength she carries within!) and her 89-year-old father, who is wheelchair bound but still loves to ride (see picture of Douglas Baldwin in his new saddle on Claudia's horse Amber).
The family is a miracle in itself – including Amber! Claudia learned in 2015 that she had a malignant cranial tumor behind her left eye with complications which would likely result in permanent vision impairment. Claudia used to work as an artist and jewelry designer of hand-crafted butterfly pins which she sold to benefit the American Cancer Society from her Ft. Myers store. As a breast cancer survivor, she decided about 20 years ago that she no longer wanted to live without the joy of horses in her life, so she and her husband Michael bought a small farm in Florida, where they live with their Friesian mare Amber and Michaels' Hanoverian gelding D'Avant.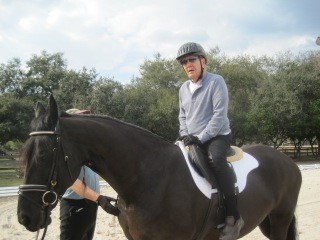 After this second setback to Claudia's health and after a series of specialty surgeries in Boston, they closed the store and retired to the farm full time. Claudia's father came to live with them. A friend told her about the Equestrian Aid Foundation, founded in 1996 by Olympian Robert Dover and several of his friends and associates. The EAF is a Wellington, Florida based not-for-profit for horse people facing catastrophic illnesses or injuries. Every year there are fundraising events held in support of the foundation; two years ago Jochen participated in their "Prancing with the Stars" event where he and Anne Gribbons opened up the competition with their memorable Viennese waltz/disco hustle.
The devastating financial consequences were beyond anything either Claudia or Michael could have expected, but thanks to the foundation's generous donors, EAF has been able to assist in mitigating some of the impact her medical requirements have had on their lives.
But that's not where the story ends. As she brought Amber (a beautiful Friesian mare) over from the paddock for her saddle fitting, I noticed a huge hole in her throat – about 2" circumference; pink and goopy-looking. Turns out that Amber has had a tracheotomy and is living quite well with this to breathe with – the goop was merely Vaseline that Claudia applies to keep the area moist. Apparently nothing gets in (she even stuck two fingers in to demonstrate how unflappable Amber was about this hole in her neck) and she expels massive snorts through it – she does not use her nostrils at all to breathe!
And her father Douglas is now living with the two of them; rescued from the nursing home where people thought he had dementia – turns out, all he needed was hearing aids! That's why people had to constantly repeat themselves. A lovely man, and such a pleasure to work with! Together with Amber, they are definitely eligible for the century club!
Now to the commercial: for all you equestrians – make your tax-deductible donations to the Equestrian Aid Foundation (www.equestrianaidfoundation.org) and make a difference in the lives of your fellow horsemen in need! The next fundraiser takes place Feb 12 at the Global Dressage Stadium in Wellington Florida – ALTHEA: and evening of enchantment as humans and horses journey together. (Former Cavalia artists have teamed up with the EAF for this breathtaking artistic performance!)  Since 1996 the EAF has provided over $2.5 million in grant based assistance directly to suffering equestrians. Please consider making this your charity of choice for 2017!
©2017 Saddlefit 4 Life® All Rights Reserved